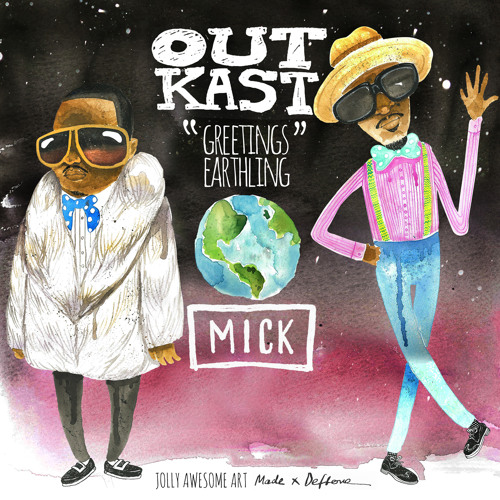 Outkast, hands down, is one of my favorite groups of all time - in any genre of music. Their music set trends, defined a generation, and created a mood unlike any other.
In honor of their Coachella reunion, I put together a fun mix of Big Boi and Andre 3000 rarities, demos, collaborations and remixes.
If you're a MICK (or Mick Boogie - remember him?) fan, you'll find this similar to the retrospectives I did for A Tribe Called Quest and the Beastie Boys.
If you're looking for Outkast's greatest hits or stuff from their albums, you're out of luck. Go to iTunes and buy those right now.
If you're a true fan and looking to dig a little bit deeper and really enter the world of the Dungeon Family - this is made for you. And it's hella long - maybe TOO long - almost two hours!
Lastly, check out the special painted original cover we created - made by Deftone of Jolly Awesome. ~ MICK
More Dope Outkast Mixes
HERE
1) Greetings Earthling Intro
2) Royal Flush (f/ Raekwon)
4) Sole Sunday (f/ Goodie Mob)
5) Throw Your Hands Up (f/ Eightball)
6) Watch For The Hook (f/ Cool Breeze)
7) Black Ice (f/ Goodie Mob)
8) I Can't Wait (f/ Sleepy Brown)
13) In Due Time (f/ Cee-Lo Green)
14) Thought Process (f/ Goodie Mob)
16) Rats and Roaches (Demo Mix)
18) Dirty South (f/ Goodie Mob)
19) Da Art Of Storytellin' Part 4
20) Millionaire (Baptiste Montigy Remix)
22) Hollywood Divorce (f/ Lil Wayne)
23) Southernplayalistic (Diamond D Remix)
25) What A Job (f/ Devin The Dude)
27) Street Talkin' (f/ Slick Rick)
28) Da Art Of Storytellin' Remix (f/ Slick Rick)
29) In Da Wind (f/ Cee-Lo and Trick Daddy)
30) Lookin' For Ya (f/ Sleepy Brown)
31) International Players Anthem (f/ UGK)
33) Pink Matter (f/ Frank Ocean)
34) Dez Only 1 (f/ Witchdoctor)